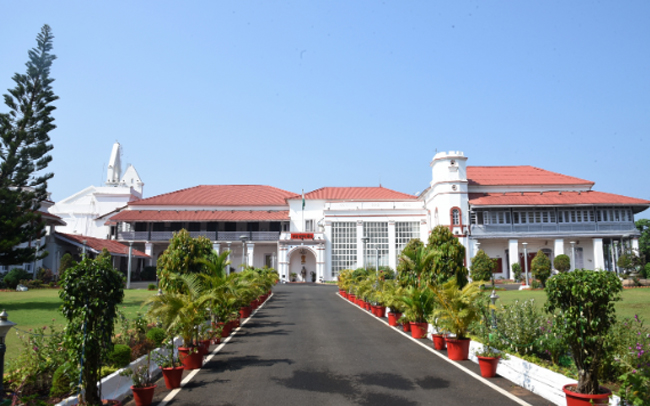 Goa Tourism has introduced historic Raj Bhavan tours at Dona Paula. These tours are available thrice a week and give tourists glimpses of history and heritage of Goa, mesmerizing views of landscapes around the Raj Bhavan at Dona Paula and the various initiatives introduced at Raj Bhavan in solid waste management, water harvesting and solar energy.

The tours are open to the general public only on Fridays, Saturdays and Sundays.

The tours are conducted in two batches, each batch comprising of 50 visitors.

The tours will commence for the first batch of 50 from 2:30 p.m. till 4:00 p.m. and second batch of 50 visitors from 4:00 p.m. till 5:30 p.m. The entire tour is conducted by Goa Tourism Development Corporation. Bookings for the Raj Bhavan Darshan will only be done on-line https://bookings.rajbhavan.goa.gov.inand through GTDC website:goa-tourism.com

Prior registration on the portal at least 3 days before the date of visit is essential and entry will be subject to police verification. On booking, visitors will receive a confirmation of the same via SMS/e-mail. Entry fee has been fixed at Rs.300/- per person and payment has to be made online at the time of booking.
Restrictions on sale/serving of alcohol beyond 11 pm: Tourism Dept discusses representation from hoteliers with CEO, relaxations expected soon

The Department of Tourism, Govt of Goa has approached the ECI through the State Chief Electoral Officer with a representation from hoteliers in Goa seeking relaxation on time curtails for bars, sale /serving alcohol beyond 11.oo p.m in the wake of upcoming Lok Sabha polls scheduled on 23rd April 2019.

Concerned over the impact of the time restrictions, hoteliers in Goa submitted a representation to the Director, Department of Tourism seeking relief from the ECI on the same. The representation stressed on the need for a relaxation in timings as the tourism season is currently at its peak and is expecting a further surge for the weekend festivities.

Earlier this week, Mr. Sanjiv Gadkar, Director, Department of Tourism along with delegation of hoteliers met CEO Goa where this issue causing difficulties to the hotel industry (bars/restaurants) were discussed and deliberated upon.

The Department of Tourism has stated that the office of the CEO in Goa heard the issues raised by the Department and has assured to take up the matter with the ECI and is expecting a positive response shortly.